Google MAPS SEO
How to get more phone calls to your business
If driving business through phone calls to your company something you want,
Look no further.
Being able to rank on the Google Local 3-Pack, or Google Maps, is one of the fastest ROI generator for our clients.
Because most SEO Agencies or Companies don't know how to do it.
And I can prove it to you. Watch this video
Marketing Consultant – Singapore's Best SEO Expert
Best Digital Marketing Firm to work with in 2017
Google's Map Algorithm once favoured websites which are already ranking, which means if you are already ranking on page 1, you are likely to appear in the maps search.
This is great, if you are already ranking.
But as shown in the video, we are seeing results of websites that are in page 2 or even in page 3 appearing in Google Maps Pack.What does this mean?
If you see a result in a competitive industry on page 1, it is very likely some form of search optimization is done either in-house, or by an SEO agency or company.
Yet this website, which is on Page 3, has leapfrogged more than 20+ websites to appear right at the top of Google's Page 1. (see video)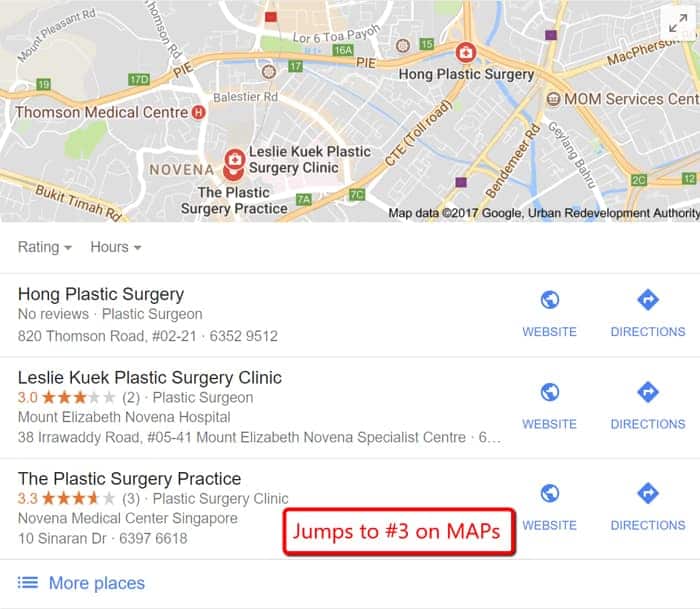 What happened to the other websites which are on Page 1 of Google's SERPS, but not on the MAPs?
This is proof that typical SEO agencies don't know how to do MAPS SEO, and incidentally appear there just because the websites are already ranking well.
This is also presents to us an opportunity to beat the competition, bypassing over the normal organic search results and generating leads faster than the usual SEO campaign.
At Adscelerate.com, we have
a proven and tested process
to rank on the MAPs and beat out your competition.
If you are already ranking, the optimizations we do may very quickly get you ranked on Google Maps, and the offsite strategies we employ will keep you up there.
If you are starting a new SEO campaign, or have not gotten good results from SEO before, this means that you can start showing up on page 1 of Google much faster than normal.
Visibility Has Never Been More Important To The Growth Of Your Business.
It is estimated that if you are in the top 3 positions on Maps for the major keyword terms searched by your potential client, you stand to take down 50% or more of the traffic for that keyword.
Not only that.
What if, instead of the typical "I can get you ranked for this keyword" promise, I'm telling you that your website can get ranked and dominate Google Maps for multiple keywords?
Why? Because ranking highly on Maps is a science.
It's completely different from the usual SEO.
It has its own set of rules.
Find out how we can help you.
Book your free strategy session by clicking on the button.